Questions?
Se Habla Español
Contact Us
, , or call
866-TRIMS-4U
or 417-678-5748.
Take advantage of our Free Shipping for USPS Priority Mail (USA) for orders over $75.00 (details) (applies to orders not using coupons). Don't forget to check out our Facebook and Twitter for special promotions. We also have a monthly newsletter with special deals.
SWAROVSKI Filigrees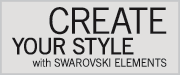 SWAROVSKI ELEMENTS Filigrees
A Filigree is defined by Wikipedia as a delicate kind of jewellery metalwork made with twisted threads usually of gold and silver or stitching of the same curving motifs. It involves threads being soldered together to form an object.