Questions?
Se Habla Español
Contact Us
, , or call
866-TRIMS-4U
or 417-678-5748.
Take advantage of our Free shipping for USPS priority mail (USA) orders over $75.00 (details) (applies to orders not using coupons). Don't forget to check out our facebook and twitter for special promotions. We also have a monthly newsletter with special deals.
SWAROVSKI 2038 Hot Fix Rhinestones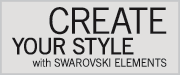 SWAROVSKI ELEMENTS 2038 Hot Fix Rhinestones
SWAROVSKI ELEMENTS has just introduced an upgrade of art. 2028 XILION Flat Back Hotfix. The existing article 2028 Hotfix will be completely replaced by the new article 2038 XILION Rose Flat Back Hotfix. The new silver mirror (the foiling) is unique in the Hotfix market and creates a warmer and brighter look with intensified and livelier colors (diamond like). Due to its improved table size, the XILION Rose Hotfix is even more brilliant than art. 2028, but will still work with your existing hotfix tools.