Questions?
Se Habla Español
Contact Us
, , or call
866-TRIMS-4U
or 417-678-5748.
Take advantage of our Free Shipping for USPS Priority Mail (USA) for orders over $75.00 (details) (applies to orders not using coupons). Don't forget to check out our Facebook and Twitter for special promotions. We also have a monthly newsletter with special deals.
PROMOTIONS: 1
Promotion
-
More »
SWAROVSKI ELEMENTS FALL/WINTER 2013/2014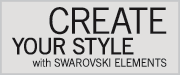 SWAROVSKI ELEMENTS FALL/WINTER 2013/2014, this section introduces you to the newest items brought to you by SWAROVSKI ELEMENTS....the fall/winter 2013/2014 launch. Debuting on 9/4/2012, items are available for pre-order currently....to receive an order form or see more information on the new launch, please call 417-678-5748 or email sales@dreamtimecreations.com!