Questions?
Se Habla Español
Contact Us
, , or call
866-TRIMS-4U
or 417-678-5748.
Take advantage of our Free Shipping for USPS Priority Mail (USA) for orders over $75.00 (details) (applies to orders not using coupons). Don't forget to check out our Facebook and Twitter for special promotions. We also have a monthly newsletter with special deals.
PROMOTIONS: 1
Promotion
-
More »
SWAROVSKI ELEMENTS SPRING/SUMMER 2014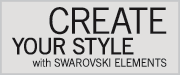 SWAROVSKI ELEMENTS SPRING/SUMMER 2014

This launch features beautiful new colors of Rose Gold and Light Silk, along with some new shapes, such as the cool new molecule shape and the flatback hearts!

Products are due to start arriving February 15, 2013. You can order now and it will ship to you when it arrives!