Questions?
Se Habla Español
Contact Us
, , or call
866-TRIMS-4U
or 417-678-5748.
Take advantage of our Free Shipping for USPS Priority Mail (USA) for orders over $75.00 (details) (applies to orders not using coupons). Don't forget to check out our Facebook and Twitter for special promotions. We also have a monthly newsletter with special deals.
PROMOTIONS: 1
Promotion
-
More »
SWAROVSKI 6022 XIRIUS Raindrop Pendant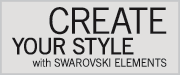 SWAROVSKI ELEMENTS 6022 XIRIUS Raindrop Pendant
A stunning chaton-cut drop pendant, the XIRIUS Raindrop Pendant is ideal for both elegant and futuristic designs. For the first time its colorful effect is applied from the top, rather than the side, to achieve a homogenous look. When seen from the side it has a classic look, but when viewed from below a dazzling kaleidoscopic effect comes into play.