Questions?
Se Habla Español
Contact Us
, , or call
866-TRIMS-4U
or 417-678-5748.
Free shipping for US orders over $75 and $1 shipping to U.S. and Canada for orders under $75.
For information on US, Canada, and special international rates, click here:



PROMOTIONS: 3
Promotions
-
More »
Assortments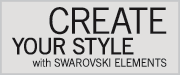 If you are looking to get a little variety, go with an assorted stone bag from Dreamtime Creations. We have assorted CRYSTALLIZED™ - Swarovski Elements 2028 Rhinestones, assorted flatback rhinestones, assorted iron on nailheads, assorted beads, assorted cabochons, assorted preset rhinestones, assorted animal print bags. These are great to have around for scrapbooking, craft projects, card making and more!