Questions?
Se Habla Español
Contact Us
, , or call
866-TRIMS-4U
or 417-678-5748.
Take advantage of our Free Shipping for USPS Priority Mail (USA) for orders over $75.00 (details) (applies to orders not using coupons). Don't forget to check out our Facebook and Twitter for special promotions. We also have a monthly newsletter with special deals.
FlatBack Flowers & Leaves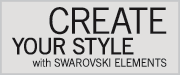 FlatBack Flowers & Leaves Rhinestones are at Dreamtime Creations! Choose from SWAROVSKI ELEMENTS 2730 Vintage Flower Rhinestones, SWAROVSKI ELEMENTS 2797 Diamond Leaf Rhinestones and Preciosa Flower Rhinestones.