Questions?
Se Habla Español
Contact Us
, , or call
866-TRIMS-4U
or 417-678-5748.
Take advantage of our Free Shipping for USPS Priority Mail (USA) for orders over $75.00 (details) (applies to orders not using coupons). Don't forget to check out our Facebook and Twitter for special promotions. We also have a monthly newsletter with special deals.
PROMOTIONS: 1
Promotion
-
More »
Rhinestones-Pointed Back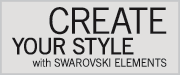 Pointed Back Rhinestones from Dreamtime Creations come in so many varieties! We have SWAROVSKI ELEMENTS 1028 Round Rhinestones, SWAROVSKI ELEMENTS 1122 Rivoli Rhinestones, SWAROVSKI ELEMENTS 1128 Channel Rhinestones, CRYSTALLIZED™- Swarovski Elements 1200 Fancy Round Rhinestones, CRYSTALLIZED™- Swarovski Elements 1201 Fancy Round Rhinestone and SWAROVSKI ELEMENTS 4428 Square Rhinestones. If you prefer a more economical rhinestone, try Preciosa Pointed Back Rhinestones which offer great quality at a great price.
Pointed Back Rhinestones Swarovski Elements 1200 Fancy Round Rhinestones and Swarovski Elements 1201 Fancy Round Rhinestones are a jewel of a rhinestone! They are like a very large diamond and have limitless possibilities. (I even put them in concret ...

More »View All Products »

Pointed Back Rhinestones at Dreamtime Creations are available from both SWAROVSKI ELEMENTS and Preciosa. SWAROVSKI ELEMENTS pointed back rhinestones come in 1028, 1122, 1128, 4428 and more, like chatons, dentelles and vintage rhinestones. For a more ...

More »View All Products »