Questions?
Se Habla Español
Contact Us
, , or call
866-TRIMS-4U
or 417-678-5748.
Take advantage of our Free Shipping for USPS Priority Mail (USA) for orders over $75.00 (details) (applies to orders not using coupons). Don't forget to check out our Facebook and Twitter for special promotions. We also have a monthly newsletter with special deals.
Embellishment & Starter Kits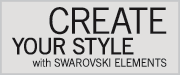 Embellishment Kits and Starter Kits are easy, fun and inexpensive! Create a designer garment in minutes using embellishment kits! Each kit includes patterns, transfer film, rhinestud carousel compact, honey pot, crystal wand, and detailed, easy to follow instructions. We also have battery operated Hot Fix Applicators! Grab an assorted rhinestone sampler kit too. We have a great rhinestone sampler box that comes with SWAROVSKI ELEMENTS 2028 Rhinestones!
It's fast, fun, easy and inexpensive to embellish clothing with these fabulous embellishment kits. Create a designer garment in minutes! Patterns can be reused as desired. Each kit includes patterns, transfer film, rhinestud carousel compact, honey p ...

More »View All Products »

Rhinestone Starter Kits come with a variety of rhinestones to get you started! We have a great kit that includes the popular SWAROVSKI ELEMENTS 2028 Rhinestones! This is a special color rhinestone sampler box for those who want to try several colors ...

More »View All Products »