Questions?
Se Habla Español
Contact Us
, , or call
866-TRIMS-4U
or 417-678-5748.
Free shipping for US orders over $75 and $1 shipping to U.S. and Canada for orders under $75.
For information on US, Canada, and special international rates, click here:



PROMOTIONS: 1
Promotion
-
More »
Buckles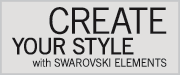 Rhinestone Buckles are a great way to add glitz to any outfit, like dance costumes, western wear and even everyday clothing. We have rhinestone buckles made with genuine CRYSTALLIZED™ - Swarovski Elements Rhinestones! Order online today from Dreamtime Creations and add glitz to your wardrobe!
The Rhinestone Belt that we offer has three rows of rhinestones and is 35 inches long from tip to tip. This Rhinestone Belt has a buckle and small rhinestone loop to hold the end. Accessorize western wear or a dance costume, or even everyday clothing ...

More »View All Products »

Dreamtime Creations has Rhinestone Buckles made with genuine CRYSTALLIZED™ - Swarovski Elements Rhinestones! Rhinestone Buckles add glitz to belts, western wear, dance costumes, everyday clothing and more! Rhinestone Buckles com in many shapes too- d ...

More »View All Products »