Questions?
Se Habla Español
Contact Us
, , or call
866-TRIMS-4U
or 417-678-5748.
Take advantage of our Free shipping for USPS priority mail (USA) orders over $75.00 (details) (applies to orders not using coupons). Don't forget to check out our facebook and twitter for special promotions. We also have a monthly newsletter with special deals.
Swarovski 2058 Rhinestones Flatback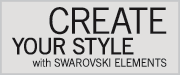 SWAROVSKI ELEMENTS 2058 Xilion Rose Enhanced Rhinestones Flat Back
Swarovski 2058 Rhinestones are a brilliant new design by the best crystal company in the world. Swarovski Elements 2058 Flatback Rhinestones are ideal for dancers, figure skaters, pageants and anyone who wants more sparkle under bright lights!