General FAQs
How do I Apply Iron-On Transfers with Economy Rhinestones?
How do I care for my garments with hot fix rhinestones attached?
Turn inside out before washing and select a mild wash cycle and a mild detergent. To ensure that the flat backs will not be damaged during the washing process, cover them with a soft washing bag. Turn fabric inside out before drying. Dry at a warm temperature with reduced thermal load. To ensure that the flat backs will not be damaged during the drying process, cover them with a soft washing bag. Iron at a warm temperature using the setting wool/silk/polyester/viscose. Use a protective cloth. Please note that the glue is reactivated when ironing. Do not use chlorine bleach. Do not dry clean.
How do I properly glue a rhinestone?
I strongly suggest a good glue that is designed for rhinestones. Never use Super Glue or Hot Glue to set Rhinestones, it will change the color of the foil backing.

Practice on scrap fabric until you can consistently judge the size of glue spots required.

Place glue spots onto fabric in whatever patterns you want. The glue spots must be smaller than the rhinestone you are using, the glue should just come around the rhinestone edge. You want to glue the rhinestone glass edge to the fabric, not just the back of the rhinestone. The bond of the foil backing to the glass of the rhinestone is not enough to hold the stone to the fabric over time and lots of use. Ultimately, if abused, you will have nice, bright shiny metallic spot of foil with no glass if you don't glue properly.

You will use smaller spots of glue with smaller stones, larger with larger. Practice with each size stone you use.
Do not apply any more spots of glue than you can set stones into within 60 seconds. If it is a dry day, do fewer at one time you do not want the glue to skim dry on the surface BEFORE the stone is set.
Most Glue is white when it comes out of the tube, and is water-soluble. It becomes clear when it dries, and is no longer water-soluble.
Use an applicator stick, such as the wax dop stick, or perfect positioner to make your life much easier. Apply the glue spots to the fabric, lightly touch the top side of the stone with the waxy end of the applicator stick, the stone will stick to the applicator stick, but you do not want it 'glued' to the stone. Push the stone into the glue with the applicator stick; lightly twirl the stick as you pull back. The rhinestone will stay in the glue and you can move on to the next stone very quickly. Do not even think about tweezers. Glue gets on the tips and the stones stick to the tweezers.
Allow rhinestone glue to begin to clear before moving to another part of the fabric and handle lightly, being careful not to undo stones that are drying.
Usually, 24 hours is a good drying time before wearing your garment. Wait one week to hand wash. Wash in cold to warm water.
Do Not Dry Clean Clothes With Glued Stones. The glue will discolor (yellow) and eventually become brittle.
If you loose a stone, reapply glue to same spot and replace stone as above.
IF you drip glue on fabric, use damp, clean cloth to remove. Wipe and repeat a few times.
Do Not Remove Glue From Satin With A Damp Cloth. You Will Water Spot The Satin.
The best way to avoid spots, etc., when gluing is to be careful.

HERE ARE SOME TIPS :

The work surface & your hands must be clean and dust free. Use the isopropyl alcohol or Acetone and then wipe clean. Trace a motif on your substrate by using a pencil.

Take up a bit of adhesive with the help of a syringe or any other appropriate dosing tool.

Place a small drop of adhesive on the substrate where you want to put the first crystal.

Pick up the crystal using a wax stick/ tweezers or any other appropriate Tool.

Gently place the crystal on the drop of adhesive and let the glue to dry according to manufacturers recommendations. Continue placing drops of glue and applying the crystal components according to the outlined motif.

After finishing the application of crystal components on the motif, dip a Q-Tip in Acetone and lightly go over the top of the crystal to remove any excess glue.
How do I make the jumpsuit portion of an Elvis costume?
We found this pattern to be very helpful:

Siplicity 9916
Size AA 34-38 in. chest
Size BB 40-44 in. chest


How do I set Rhinestone Rivets?
Setting Decorative Rivets Using the Crystal Applicator Tool
Please see the attached pdf file for additional instructions and diagrams.
1. Whatever material you're using, you will need to pre punch a hole (the size of the rivet stem or a little bigger) where you want the rivet to go. I use a leather hand punch.
2. Load the Crystal Applicator Tool (see PDF)
View PDF
3. Put the rhinestone rivet through the hole facing downward.
4. Slowly close the Applicator Tool so you get the protruding top into the hole on the rivet back.
5. Close setter until you feel/hear a little pop, and sometimes the material sticks to the top piece. Too much pressure and you break the rhinestone. Too little and you'll see the back isn't secured. It doesn't take much pressure, especially with thicker materials.
Make your own transfers with our easy method.
Use the following method to produce initials, names, words, and/or pictures using Hot-Fix rhinestones.

What you will need for this project:

Hot-fix rhinestones or Hot-Fix (Iron on) nailheads or rhinestuds

Mylar Film (special 'paper' used for heat transfers)

Tweezers or preferred, wax dop stick, than can handle whatever size rhinestones you plan to use.

An understanding of the following instructions. If you have questions, do not proceed until you have answers from us. Better to make a call than to make a mess.

Choose your word, picture, etc. The minimum letter height should be 3/4", Best letters are produced when the letters are at least 1" in height. If you are planning on placing this on a Tee-shirt or tank top, keep in mind the maximum width you can use, usually in the range of 9" or so. Phrases may have to be in more than one line. This should present no problem with most applications.

Go to your computer; choose a simple font, especially if the letters are to be small. The more fancy the font, the harder it will be to read the transfer unless you plan on placing your stones against each other. Even then, some scripts become very hard to decipher. To get a big enough font, it may be necessary to use a graphics program, such as Corel or Adobe...whatever you are used to. But, in general, MS Word has a maximum font size of 72, and that will not be big enough in most cases.

Either print out your word, picture, or phrase on CHEAP, 20 lb paper OR if in a graphics program, flip the transfer image to get a MIRROR image (easier than printing the word as it should appear) if you have the ability to do so.

IF your image is right side up (reads as you want the final to read), turn the paper over and place on a glass-top table. If you have reversed the image in the computer, you will not need to do this. (you will be making the transfer 'up-side-down', therefore, it MUST BE REVERSED by one method or another.

Dump your Heat Fix Rhinestones into a saucer. If you are using more than one size, color, or combinations, use separate saucers for each.

Cut a piece of transfer paper (about 1" bigger in all 4 directions than the image will be. (if the word, image, etc. is 4" X 6", then cut transfer paper 6" X 8") Do not remove the backing paper before cutting...you will have a mess. You need mylar film for this project. Don't even thing about using cellophane tape!!)

Tape the image to a working surface (Cellophane or masking tape...just to hold image in place.). IF you used the 'right side up-cheap printing paper' method, tape to a glass top table and place a light under the table so that you clearly can see the image. IF you used the reversed method in a graphics program, tape to any working surface right side up.

Remove the backing from the Transfer Paper and set aside in a safe place. Do not discard this backing. (Backing is usually white paper with a shiny side, or may be a translucent waffle backing). Place the clear transfer tape STICKY SIDE UP, centered over image and affix with a small amount of tape (cellophane or masking tape) over each corner...do not affix too well, for you will have trouble removing the transfer...just barely catch the corners is good enough.
Using tweezers or wax dop stick, place the Hot Fix Rhinestones FACE DOWN onto the tape exactly where you want them to be. IF you miss the place, you can remove and redo as often as it takes to get what you want. REMEMBER, the GOOD side of the rhinestone (shiny side with facets) goes DOWN into the tape.

Before you go any further, I should warn you. USE ONLY HOT FIX RHINESTONES FOR THIS PROCESS. The backings on Hot Fix rhinestones appears somewhat rough, may have small grid marks in it, is either gray or green, and it is matte. IF you have any doubt, place one of the rhinestones on a scrape of fabric and place an iron heated to 'Wool' on it. PRESS hard without moving the iron, hold for 25 seconds and lift iron straight up. Allow to cool some. Stone should be well affixed to fabric. If it is not, you have the wrong rhinestones to work with. Unless you are absolutely sure, always test the rhinestones. It is not a waste of time to do this test. ( When you order rhinestones, make sure you state, HOT FIX, IRON-ON, or HEAT SET. Test anyway, for errors can occur in shipping from any company.

Play to your heart's content, arrange, re-arrange, do whatever you want. When you are finished, carefully remove the tape at the corners of the transfer tape (MYLAR FILM) and replace the paper backing (shiny side) back onto the transfer tape. Be careful not to de-arrange your rhinestones. Now, when you turn your new transfer over, right side up, you will see the final product. If it is what you want, you are finished with this transfer. IF not, you can make changes at this point.

Use this method when you want a unique pattern with exact placement of rhinestones. Use this method when you want many identical images in rhinestones. When your needs exceed 25 or more transfers of the same image, it is probably better to consider having a custom transfer made for you, for this method is very time consuming.

Once you have the transfer made, you can apply it to any fabric with an iron or heat press. Peal the backing off the transfer, place the transfer onto the garment exactly where you want it. (you will not get a second chance once heat is applied, so take your time and place correctly...you can remove and re-place at this stage of the game. USE a NON-STEAM iron (no holes), heated to 'WOOL' setting. If you are setting to tank tops or Tee-shirts and have two layers of fabric on the ironing board, I suggest placing a scrap of sheeting or muslin between the two layers before applying heat, as the hot-melt glue could go through the 1st layer and stain the back layer. Bring the iron Straight down onto the transfer and press as hard as you can for 25 seconds or so. DO NOT apply heat longer, for the glue can diffuse into the fabric too much and not hold the stones well. Larger stones may take longer time...trial and error. DO NOT wiggle the iron or move it in any way while setting the stones, as you run the chance of moving the stones with the iron. Once the time is up, remove the iron by lifting straight up. Allow the tape to cool for about 5-10 seconds and remove tape by slowly peeling. The tape must be still warm, if not hot. Otherwise, the tape will bond to the fabric too well and will raise the nap of the fabric too much. If, when peeling the tape, stones come with it, you have not applied enough heat for enough time. Immediately stop peeling and replace, re-do the heat step, then try removing again. Usually, this will not happen. But it can with larger stones. So trial and error is the method to use. If you have a Heat Press, set it to 350 degrees at 15 pounds pressure for 25 seconds.
What do I need to decorate the Elvis Aloha Jump Suit?
ELVIS ALOHA JUMPSUIT

18x13 sapphire cabochon 84 pcs
18x13 ruby cabochon 136 pcs
18x13 rims gold 52 pcs
ss30 sapphire rhinestones(acrylic faceted) 457 pcs
ruby rhinestones (acrylic faceted) 358 pcs
ss30 tiffany set gold 795 pcs
11mm sapphire cabochon 27 pcs
ruby cabochon 33 pcs
11mm rims gold 60 pcs
7mm sapphire cabochon 38 pcs
ruby cabochon 28 pcs
7mm rims gold 66 pcs
15mm ruby cabochon 8 pcs
15mm rims gold 8 pcs
ss40 flat spot gold 94 pcs
ss30 pearl nailhead gold 60 pcs
ss60 pearl nailhead gold (faceted diamond109) 35 pcs
752 nailhead gold (oblong large) 40 pcs
nailead gold (oblong small) 180 pcs
ss20 faceted pearl nailhead (109 gold) 2092 pcs
962 gold stars 20 pcs
ss70 stars gold(med) 55 pcs
ss60 stars gold(small) 180 pcs
ss40 stars gold(xsmall) 271 pcs


What is your shipping policy?
All overnight (1 day, 2 day, 3 day etc...) air orders (which includes ups and express mail) and priority handling orders (the ones that pay the rush fee) need to be in by 3:00 central time in order to be processed the same day. If you have an urgent order after that time, please call 417-678-5748 to check if it is possible to get it out that day. We will do our best to accommodate you if at all possible. All other orders go out in the order they are received, usually within 24-48 hours.
Are the colors of the products that I see on your website accurate?
While we endeavor to provide an accurate as possible image to represent the color of all of our items, due to variations in monitors and the devices that people use to view our website, slight variations may occur. We recommend
purchasing a color chart
to see the exact color.
How do I become a Dreamtime Affiliate?
Dreamtime uses
ShareASale
to manage their affiliates. To become an affiliate, simply go to their
Affiliate Sign-Up
, register, and search for Dreamtime Creations as a merchant.
There you will be given links and advertising materials to receive a commission on referral traffic that buys from Dreamtime through your website.
What color of Dreamtime Crystals are for each month's birthstone?
The following are the appropriate colors for each month's birthstone. Note that some month's have more than one color and are subject to your preference.

January - Garnet, Scarlet, or Siam
February - Amethyst
March - Aquamarine
April - Crystal
May - Emerald
June - Light Amethyst or Crystal White Pearl
July - Light Siam or Ruby
August - Peridot
September - Sapphire
October - Rose
November - Topaz or Light Colorado Topaz
December - Montana or Blue Zircon
How many pieces are in a gross?
There are 144 pieces in a gross, no matter what the item so 1 gross equals 144 pieces, 5 gross equals 720 pieces, etc. Our pieces are weighed, not hand counted, so the numbers are approximate. They can be off by a couple of pieces either low or high.
How to I print from your printable catalog?
How to measure your ring size using just a piece of paper and a ruler.
1. Cut a thin strip of paper about 1/4" wide (6mm), long enough to wrap around your finger more than once.
2. Wrap the paper around your finger where you would like to wear the ring.
3. With a pen mark the paper where the strip overlaps itself.
4. Measure the length and then use the following chart to determine your ring size.

Size 4: 1 13/16 inches (47 mm)
Size 5: 1 15/16 inches (49 mm)
Size 6: 2 1/16 inches (52 mm)
Size 7: 2 1/8 inches (54 mm)
Size 8: 2 1/4 inches (57 mm)
Size 9: 2 5/16 inches (60 mm)
Size 10: 2 7/16 inches (62 mm)

What application techniques do I need to know to apply Crystals?
What are the rules for #TakeAGuessTuesday?
#TakeAGuessTuesday is a fun contest run on the Dreamtime Creations social media pages. A picture is posted with a question that usually involves guessing the count crystals in the picture. To enter, you are encouraged to comment with your guess before midnight Central Standard Time.

The answer will be posted on the following day and a winner will be chosen and announced one day later than that (2 days after the initial post).

Winners are chosen based on who's guess was closest to the right answer before the deadline stated. In the event that two or more guesses are equally correct or close, a winner will be randomly chosen between those.

Only one guess is allowed per user or all guesses will be invalid.

The winner will be announced as a reply to the winner's comment in the original post. Shortly thereafter, they will be contacted through Facebook messenger to gather the necessary information to send them their prize.
What do the special letters in Dreamtime Crystal codes mean?
There are several Dreamtime Crystal items that have special letters or numbers in their codes that mean certain things. Here is a quick list explaining some of the more common ones.

2X - Both sides of an item are treated with the effect. Most common on beads.
P - Protective coating. Typically applied on pendants when the effect would otherwise be easily scratched.
B - Effect is applied to three sides of a cube (ex. 5601)
Z - Only part of the crystal is treated with the effect
V - The effect is applied on the reverse side. In other words if it normally went on the bottom, items with "V" would have the effect on the top
/G - The item is partly frosted
/4 - The item has no facets
/2 - Table cut. The item is faceted like a normal crystal but only the top (the table) is polished.
HFT - A clear version of hotfix that is used for items that does not have a foil backing.
What does table cut or the /2 mean in 2200/2?
Table Cut are pressed stones; only the table is cut. Therefore, "TTC's" are cheaper than Machine Cut and work great for most applications.
Where can I get a size chart so that I can see the sizes of PP and SS crystals?
You can download a helpful size chart by clicking
here
and then print it out on a standard letter sized sheet of paper.
How do I check out and pay with Paypal?
To checkout you have to place at least 1 item in your cart and click the "Checkout" button on the "View Cart" page. After you have entered your email address and other relevant information you will be asked how you would like to pay. Select "PayPal" from the menu of options and after your order is confirmed click the "Pay with PayPal" button on the order confirmation page.
How many rhinestones do I need?
This gives you the amount to completely cover an area:

Length times Width will give you the area of a surface.
Example: if the phone was 2 by 4 Inches, then it would have 8 square inches of surface.

Stone Size and Number Required to Cover
One Square Inch
5SS - 253
6SS - 205
7SS - 170
9SS - 121
10SS - 105
12SS - 91
16SS - 51
20SS - 37
30SS - 20
34SS - 16
40SS - 11
42SS - 10
48SS - 7

1 Square Inch = 645.16 Square Millimeters
How To Calculate the Area of a Circle
1. Divide the diameter by 2 to find the radius.
2. Square the radius, that is, multiply it by itself. For example, the radius is 4 mm, then the square of that would be 4 x 4 which is 16mm.
3. Multiply the answer from step 2 (radius squared) by pi (3.1416). This is the area.

How much is shipping?
Domestic Shipping Options
Free Shipping: $0.00 (Orders $75+)
USPS Priority Mail: $7.50
USPS Priority Mail Express: $27.00
UPS Ground: $12.99
UPS 3 Day Select: $12.99
UPS 2nd Day Air: $20.99
UPS Next Day Air Saver: $27.99
UPS Next Day Air: $31.99
Don't forget to purchase insurance if your order is over $100.00 as UPS only covers that amount without it, and if your package is lost or damaged, they will only reimburse up to $100.00 unless you purchase insurance!
International Shipping Options
Do you ship COD?
COD is for established customers only, you must be pre-approved to use this option. There is an extra charge for this service, to apply for this option, please call 417-678-5748.
Terms and Definitions of Commonly Used Items
Terms & Definitions
Antique- a stone with rounded corners
Bead- a piece with a through hole
Buff Top- a stone with a low domed top
Button- a stone or cluster of stones that is used in jewelry or fabric
Cabochon- a smooth domed stone
Cameo- a stone with raised engraving
Coatings- a vacuum coating applied to a piece to add luster or colored effect
Cross Hole Pendant- a pendant with a hole running side to side
Doublet- a stone with a facetted top and facetted back
High Cut- a steep domed stone, facetted or smooth
Hot Fix- an adhesive applied to the back of a stone to iron on to fabric
Intaglio- a stone with a recessed engraving
Lamp Stones/Beads- Individually made pieces by specialized process
Matte- a frosted surface
Mesh- a woven metal banding or sheet with or without stones
Opal- a milky color glass
Pearl- a bead or stone with an opaque pearlized coating
Pendant- a piece with a hole at one end
Pre-Set- a stone in a setting
Rondelle- multiple stones set into a metal base with a through hole
Roses- a facetted top, flat bottom stone
Sew-On- flat back stones with holes for sewing onto fabric


What credit cards do you take?
We accept credit or debit cards that are MasterCard, Visa, Discover and American Express. You do have to know the correct billing address and security code.
Do you take PayPal?
Yes, you can choose that option during check out and then you need choose pay now to complete your order.
How do I place an order?
The preferred method is online using a credit/debit card. You may also mail in your order, fax your order to 417-678-2759, or call your order in to 417-678-5748.
What hours is someone there?
The receptionist is in from 8:00 am – 5:30 pm Central Time. If we don't answer the phone, we are on the other line, please leave a message or try your call again later. We will return calls as soon as we can. The best way to contact us is via email as we answer those from 7:00 am until 5:00 pm on most days.
Can I make returns?
Items may be exchanged or returned within 30 days of the original order date. Any items returned for credit are subject to a 15% re-stocking fee. Items exchanged for equal or greater value are not subject to the re-stocking fee, customer just pays the shipping charges to get the exchange shipped out to them. The shipping is non-refundable. Items should be returned in a padded envelope via the post office to: 21501 Lawrence 2210, Aurora, MO 65605. You will not receive free shipping on replacement (exchange) orders unless the new order is $75.00 or more than the returned items.
What does AB or Special Effects mean?
AB - AB stands for Aurora borealis (which means "northern lights"). Aurora borealis rhinestones have a special iridescent finish that shines with many colors. The iridescent surface is a result of a very thin layer of metallic atoms that have been deposited on the lower surface of the stone. This process was invented in 1955 by the Swarovski company together with Christian Dior.
AB 2x - Same as AB but with coatings on both sides of the crystal. This makes the coating much more visible.
CAL - Comet Argent Light adds a silver foil layer to half of the crystal.
Hematite - A dark metallic coating.
Satin - Makes the crystals color more muted and natural.


What are hot fix rhinestones & how do I apply them?
Dreamtime Crystal Hot Fix rhinestones have glue that melts at about 340 - 375 degrees F. If your fabric is easily damaged by heat, these are not the stones for you.

These stones can be applied with your household iron, a heat press or a specialized tool such as, the BeJeweler or the Kandi Kane can also be used. These 2 tools will pick-up round rhinestones, heat them until the glue begins to melt so that you can attach them to your fabric. Its quick, it' clean and its easy.

The weakest link in the rhinestone system is its mirror backing, the coating on the back of a rhinestone is a mirror bonded to the glass. This mirror does not have a very strong bond with the glass and can be pulled free of the glass over time. This is why you may see a silver spot where a rhinestone used to be.

When you use heat set rhinestones, only the backing is glued to the fabric. These stones will come loose over time in a washing machine and/or dryer. It is highly advised to hand-wash any items with glued rhinestones, regardless of how they are put on the garment.
--------------------------------------------------------------------------------

There are two methods of applying hot-fix rhinestones. The first method is by using the Hot-Fixer tool, and the second method involves the use of a standard iron.

Hot-Fixer Tool Method
Before plugging in hot-fix tool, ensure that you are using the proper sized attachment for the rhinestone size you wish to affix.
Plug in the hot-fix tool and lean it on the provided stand.
Take care not to touch the metal as it heats up.
Get your fabric ready and place it face up on a flat surface that can withstand heat.
Place all rhinestones face up in a separate area.
Pick up hot-fix tool by handle and place on the rhinestone; rhinestone should readily fit and affix to the tool.
Now place rhinestone onto fabric where you wish it to adhere.
Press rhinestone into place on fabric for a few seconds to let glue melt and adhere to fabric. Personally I watch until the glue begins to melt and then stick it on the fabric, it doesn't have to sit on the fabric that way. If the rhinestones are coming back up, the glue got too hot and you can fix that problem by holding the stone with a small object while lifting the tool back off. (I usually use a butter knife).
It may take a few tries to get this correct, but with practice you'll be an expert!

Iron-on Method
Place fabric face up on a flat surface that can withstand heat.
Position rhinestone face up on fabric in the area where you wish it to adhere.
Heat up your iron to the lowest setting.
Once iron is heated, press and hold iron to the rhinestone; glue should melt and rhinestone should adhere to fabric.
Let dry and cool – voila, you're done! I personally prefer to lay my entire design out on mylar paper and put the whole thing on at once with the iron.

--------------------------------------------------------------------------------
Do not dry clean any garment that has any kind of glued stones on it, be it glue or heat fix. Regardless of the manufacturer, the cleaning fluids can denature the glue, cause it to become yellow and brittle, or just plain dissolve it.

Since you do not know what kind of fluids are used at any one time, you will not know if your stones will survive the process don't take the chance!
What are rim sets and tiffany sets?
Tiffany: prongs come from back of material, and wrap over stone edges, like a jewel mounting in rings.
Rim Sets: consist of a ring of metal which covers edge of stone, pressed through cloth, over the stone and prongs that fold back over back of edge of stone. Each style has its advantages and disadvantages:

Tiffany sets show the whole stone and are relatively unobtrusive to the stone design. However, these will snag the closest fabric, particularly knits. When they do, not only can they damage whatever they have snagged, but also usually the prong is loosened or opened up and the stone is lost forever. NEVER use Tiffany mounts on under the sleeve or body area under sleeves the fabric will be ruined within the hour. However, Tiffany mounts are great for mounting large jewels on the front of your outfit, particularly at the neckline.

Rim Sets do not snag on anything, offer a very nice finished look, and protect the edges of rhinestones. Rim Sets completely cover the edge of whatever they are mounting. Here is the major disadvantage, when using small rhinestones, such as the 20SS, a major part of the stone is covered. When using Rim Sets, the pattern must be planned to include the rim, it will be an important part of the pattern. Rim Sets are used a lot in Equestrian outfits and Tack for Horses. If you use rim sets, plan to line the back of the prongs. The prongs will ruin hosiery. When Rim Setting on Leotards, care must be taken when putting on Leotards on to avoid this.

Use of Tiffany or Rim Sets involves a lot of prong bending. If you are planning of doing a lot of this work, I suggest buying a press such as the Home Pro LR (for rims) or the Deluxe rhinestone Setter (for tiffanys).

No matter which way you mount rhinestones, lightly glue the flat backs in place to create the pattern, then go back and apply the settings. The patterns are more precise, and the setting process is much faster.


Do you sell wholesale?
All items are priced based upon the quantity ordered. For businesses with a license, contact us for further pricing. Wholesale accounts are based upon when they are approved for wholesale, we cannot go back and give discounts to orders placed in the past. (not retro-active).
Do you have a color chart?
You can purchase a color charts in most of our brands with actual rhinestones on it. There are over 100 different colors and all available sizes shown on this chart. You can get yours
here
.
Do you sell to schools?
Schools can place an order by faxing it along with the purchase order and delivery/payment terms to: 417-678-2759.
What is the turnaround time?
Orders are done in the order they are received unless it is an overnight or 2 day order which goes out the same day if ordered by 1:00 central time. If you need an overnight order after this, please call to confirm that we can still get it out that day. Most orders go out within 1-2 business no matter what the shipping method. You can pay a $5.00 rush fee to move your order to the front of the other orders and get priority handling. This fee does not change the shipment method, it simply puts your order first in line to go out.
What about back-orders?
We try very hard not to have back-orders, but that is virtually impossible as we cannot forecast exactly what is going to be ordered or what our crystal suppliers might run out of. Our policy is to ship your package and notify you of any backorders. If the backorder isn't going to arrive in a day or two, we will call or email you to find out what you want to do. If it does arrive with a few days, we simply mail the item to you via 1st class mail, no extra charge to our customer. If you have an overnight order or 2 day air order, we will attempt to call you to see what to do as we know your order is urgent. Please put a daytime phone number on your account so we can reach you if we do need to call.
How do I iron a motif on a garment or textile?
1. Remove plastic backing from clear film.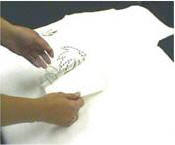 2. Place motif on garment or textile with adhesive side down. Cover with PTFE Non-Stick sheet.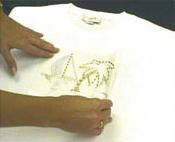 3. You are now ready to heat transfer. Use a dry iron, no steam. Use Cotton setting - temperature 300-340° F. Iron for 10-20 seconds.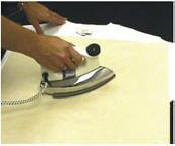 4. Insert the PTFE Non-Stick sheet inside the garment and iron on the back of the garment approximately 30 seconds.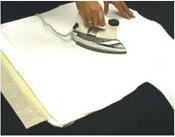 5. Allow motif to cool for approximately 10 seconds before removing clear protective film.
6. For a permanent seal, reapply PTFE Non-Stick sheet over motif and iron for another 20 seconds.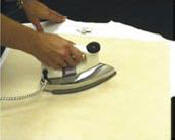 7. Your transfer should now be permanently sealed to the garment or fabric and is washer/dryer safe or may be dry-cleaned.
Additional Information
Metallic Nailheads & Crystal stones will NOT adhere to the following materials: Leather, Imitation Leather or Oil-Treated Fabrics, Waterproof Coated Fabrics (Teflon, Silicone, etc.), Rubberized Materials.
Fine Materials
e.g. Silk, Polysilk, Lycra
Temperature: 325-340° F
Pressure: light (25-30 lb)
Time: 7-10 seconds
Remove clear film
Reapply heat for additional 7-10 seconds
Heavy Materials
e.g. Jersey, Fleece, Denim
Temperature: 350° F
Pressure: light to medium (30-40 lb)
Time: 10-12 seconds
Remove clear film
Reapply heat for additional 10-12 seconds
What is a rhinestone?
Rhinestones are highly reflective glass made to imitate gemstones. The original rhinestones were quartz stones (rock crystal) obtained from the Rhine river. These stones were cut to resemble gemstones. The best rhinestones today are made of highly reflective leaded glass which is faceted and polished.

FROM WIKIPEDIA:
A rhinestone or paste is a diamond simulant made from rock crystal, glass or acrylic. Originally, rhinestones were rock crystals gathered from the river Rhine, but their availability was greatly increased when the Alsatian jeweller Georg Friedrich Strass had the idea to coat the lower side of glass with metal powder around 1775, imitating diamonds. Hence, rhinestones are called Strass in the German language.

Aurora borealis (AB) crystal tends to reflect whatever color is worn near it. The AB stone is named after the Northern Lights in Alaska also known as Aurora Borealis.

Rhinestones make excellent imitations of diamonds, and good manufacturers even capture the glistening effect that real diamonds have in the sun.

In 1955, the "Aurora Borealis" or "Aqua aura", a thin, vacuum-sputtered metallic coating applied to crystal stones to produce an iridescent effect, was introduced. Today, crystal rhinestones are primarily used on costumes, apparel and jewelry. They are produced mainly in Austria and the Czech Republic, while acrylic rhinestones are manufactured in several countries.

Heavy use of rhinestones is often associated with country music singers, as well as with Elvis Presley and Liberace. The rhinestone-studded Nudie suit was invented by Nudie Cohn in the 1940s, an Americanization of the matador's "suit of lights". Glen Campbell released an album named, and subsequently became known as, the Rhinestone Cowboy.