Questions?
Se Habla Español
Contact Us
, , or call
866-TRIMS-4U
or 417-678-5748.
Free shipping for US orders over $75 and $1 shipping to U.S. and Canada for orders under $75.
For information on US, Canada, and special international rates, click here:



PROMOTIONS: 3
Promotions
-
More »
SWAROVSKI ELEMENTS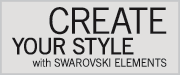 Flat Back Rhinestones
Dreamtime Creations is the top online supplier of Flatback Rhinestones, including the popular SWAROVSKI ELEMENTS 2058 flatback rhinestones! Also choose from other SWAROVSKI ELEMENTS Flatback Rhinestones, Preciosa Flatback Rhinestones, Acrylic Lead Free Rhinestones and so much more. We have the largest variety of colors, shapes, sizes and brands - You'll find what you're looking for at Dreamtime Creations!