Questions?
Se Habla Español
Contact Us
, , or call
866-TRIMS-4U
or 417-678-5748.
Take advantage of our Free Shipping for USPS Priority Mail (USA) for orders over $75.00 (details) (applies to orders not using coupons). Don't forget to check out our Facebook and Twitter for special promotions. We also have a monthly newsletter with special deals.
PROMOTIONS: 1
Promotion
-
More »
Stones in Sew On Settings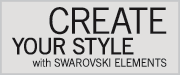 Stones in Sew On Settings have half of the work done! We have several varieties of sew on rhinestones with SWAROVSKI ELEMENTS Pointed Back Rhinestones set into tiffany or prong type settings. Use for sewing onto wedding dresses, costumes, figure skating outfits, pageant dress, pageant wear and more!