Questions?
Se Habla Español
Contact Us
, , or call
866-TRIMS-4U
or 417-678-5748.
Take advantage of our Free Shipping for USPS Priority Mail (USA) for orders over $75.00 (details) (applies to orders not using coupons). Don't forget to check out our Facebook and Twitter for special promotions. We also have a monthly newsletter with special deals.
Over 30,000 different Swarovski Elements, Preciosa Crystals, Flatback Rhinestones, Beads and Jewelry Supplies available at wholesale pricing!
Welcome to Dreamtime Creations, the largest online rhinestone, bead and trim supplier! Need Swarovski Elements? We carry a full line of Swarovski rhinestones, beads, chains, banding and all kinds of Swarovski products, including Swarovski 2028 Rhinestones and Swarovski 2058 Rhinestones! We also carry less expensive options for our more economical customers, including the highly used Preciosa Brand! Acrylic lead free and low lead options are also available and are great for children's items and projects. Whatever your need, you will find it at Dreamtime Creations. We keep lots of inventory so we ship fast! If you happen to need something that you don't see, just ask- we'll do our best to locate it for you!
Dreamtime Creations, Inc. is proud to be a Create Your Style partner with Swarovski Elements which is the new name and trademarked logo being used by Swarovski Elements. The awesome crystals and rhinestones have not changed, only their name. So wherever you see the Swarovski Elements or just the term you can be assured you are still getting the same high quality Swarovski crystals and rhinestones.
---
---
100% Price Match Guarantee!
Dreamtime Creations appreciates you and your loyalty, and we want to make sure we offer you the very best price. If you find a lower price online (that fits in the guidelines below) just let us know and we'll match the price!
More info on our Price Match Guarantee ».
---

Free Shipping
We now offer Free USPS Priority Mail shipping on USA orders over $75.00!!!*** This special offer does not apply to wholesale orders or orders receiving other coupons or discounts. Sign up for our newsletter to see all of our newsletter-only specials! (Here's a sneak peek at this months newsletter)
---

Free Products & Promotions
Be sure to check our Promotions area frequently. We are always rewarding your purchases with free products and free shipping! Free products will appear in the cart during checkout once you have reached the minimum purchase amount. Check out our current promotions!
---
We Do Custom Rhinestone Transfers!
We can turn your dream into a reality at Dreamtime Creations! Submit your idea for a custom rhinestone transfer and we'll give you a quote, whether you need one or thousands, we can do them here. Make your ho-hum item dazzle with a custom rhinestone design, apply it to your belts, jeans, purses, dresses, t-shirts and more!

Swarovski Elements Application Manual
Current Coupons!
$5.00 Off $50.00 Purchase *
Purchase at least $50.00 and receive $5.00 off your order by entering coupon code 0550. Does not apply to orders receiving other coupons or discounts, no does it allow for free shipping.
---
$100.00 Off $500.00 Purchase *
Purchase at least $500.00 and receive $100.00 off your order by entering coupon code 100500. Does not apply to orders receiving other coupons or discounts, no does it allow for free shipping.
---
$15.00 Off $100.00 Purchase *
Purchase at least $100.00 and receive $15.00 off your order by entering coupon code 15100. Does not apply to orders receiving other coupons or discounts, nor does it allow for free shipping.
---
50% off Swarovski 2028 *
50% off all inventory left of Swarovski 2028's both regular flatback and hot fix. First come, First Served. Does not apply to orders receiving other offers or discounts, does not allow free shipping.
---
* More Info ...
Product Of The Month
Our best wax dop stick, with the added expertise of the Crystal Ninja, Kellie DeFries! Use this to pick up rhinestones, crystals, chatons, etc. and set them in place, use the silver end to move them a ... Read More »
If you already own a Crystal Katana, and need to replace the tip, this will do the trick. With practice your tip should last you thousands and thousands of crystal placements - but sometimes, ya just ... Read More »
Looking for a smaller tip or starter rhinestone, pick-up tool? This is a scaled down version of our Best selling Patent Pending Crystal Katana. Comfortable Pen shape, comes with 6 small wax tips. Once ... Read More »
We have provided you with the same smooth, firm and lint free work mat we use everyday. This mat is best for working with Flatback crystals and glue, as it has no lint to float around and get into wet ... Read More »
Color Charts
New CREATE YOUR STYLE Color Carousel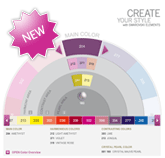 The CREATE YOUR STYLE Color Carousel places the world of fashion at your mouse pointer! Spin out on a journey of discovery and create a whole new world of color! Rotate the upper disc (using the arrows) until your main color appears or click on a color on the color strip below to find your desired color combination.
Need to Purchase a new COLOR CHART?
We have newly revised Swarovski Elements color charts, it now includes the CHRYSOLITE OPAL, BRONZE SHADE & ASTRAL PINK click here to purchase a color chart! ALSO AVAILABLE, WONDERFUL NEW SPECIAL COATINGS COLOR CHART, INCLUDING THE GLACIER BLUE COATINGS, THE CHAMPAGNE COATINGS, THE SATIN COATINGS & WONDERFUL NEW COLORS SUCH AS CELADON!!!
Featured Designers
Lead Content Advisory
As of February 2009 a new California law has been put in place for lead content in children's clothing. Please read how these new laws affect you.
---
We just revamped our Do It Yourself aka Fresh Ideas and are adding new downloadable PDFs.