Questions?
Se Habla Español
Contact Us
, , or call
866-TRIMS-4U
or 417-678-5748.
Take advantage of our Free shipping for USPS priority mail (USA) orders over $75.00 (details) (applies to orders not using coupons). Don't forget to check out our facebook and twitter for special promotions. We also have a monthly newsletter with special deals.
Chain-Rhinestoned & Beaded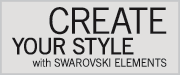 Dreamtime Creations carries both Beaded Chains and Rhinestone Chains, and both come with - Swarovski Elements Beads (using 5301 bicone beads and 1122 in channel settings) and - Swarovski Elements Rhinestones! We also offer Acrylic Lead Free Rhinestone Chains if lead is a concern. Check out a huge color selection. We can even do some special orders too!
CRYSTALLIZED™- Swarovski Elements Beaded Jewelry Chains are the perfect touch for your next project! We have a variety to choose from, all containing genuine CRYSTALLIZED™- Swarovski Elements Beads, like CRYSTALLIZED™- Swarovski Elements 5301 bicone ...

More »View All Products »

Rhinestone chains at Dreamtime Creations includes CRYSTALLIZED™- Swarovski Elements Rhinestone Chains. We also offer Acrylic Lead Free Rhinestone Chains, Fancy Rhinestone Chains and Rhinestone Chains that are up to 3 rows wide. We have a great color ...

More »View All Products »