Questions?
Se Habla Español
Contact Us
, , or call
866-TRIMS-4U
or 417-678-5748.
Free shipping for US orders over $75 and $1 shipping to U.S. and Canada for orders under $75.
For information on US, Canada, and special international rates, click here:



PROMOTIONS: 3
Promotions
-
More »
SWAROVSKI ELEMENTS Beads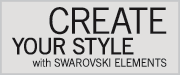 SWAROVSKI ELEMENTS Beads offer the very best in quality! Our SWAROVSKI ELEMENTS Rhinestone Beads come in a variety of shapes, sizes and colors. We have SWAROVSKI ELEMENTS Beads 5301, 5000 and more. Some are bicone beads and round beads, and some beads are elongated and polygon shaped. Dreamtime Creations carries a full supply of SWAROVSKI ELEMENTS Beads, making us your one stop shop!